Unitrunk Helps Deliver Space Flexibility At Bath Office Scheme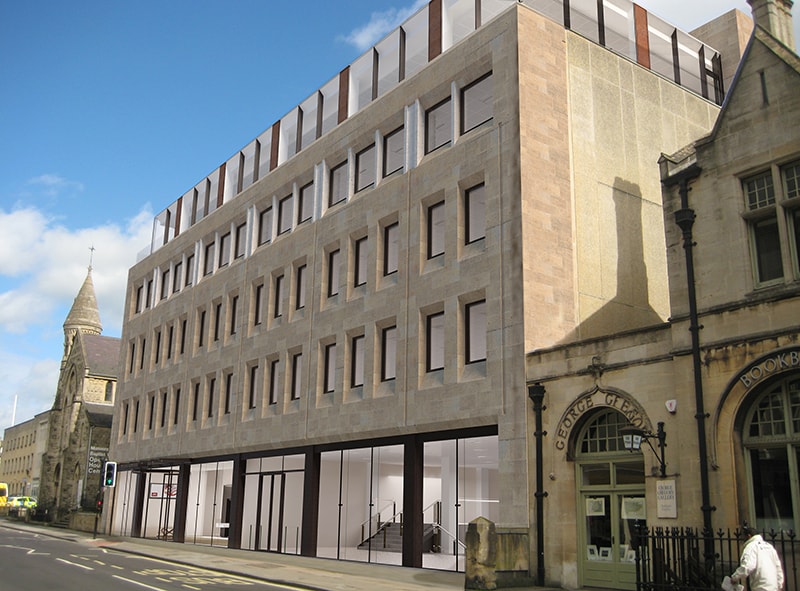 Unitrunk's three-compartment trunking has been used to complete an innovative 'in floor' electrical installation at 20 Manvers Street, a local authority-owned office building in Bath.
Designed by architect, Stride Treglown, the refurbishment scheme at the 1970s office building has involved full strip out and remodelling along with the addition of a new fourth floor to provide a category A shell office layout. The transformation of the building optimises the lettable space and enables flexible configuration of accommodation to meet occupiers' requirements.
The creation of channels in the floor slab for routing the Unitrunk trunking avoided the need for a raised access floor and this played a key role in maximising floor to ceiling heights in the existing four storeys and lower ground floor.
Electrical contractor, Priddy Engineering Services installed electrical distribution from the landlord's supply via a basement LV switch room and panels and onto each floor via central risers. Unitrunk's three-compartment trunking was then positioned within pre-cut channels and screwed into place in a layout that enables each floor to be subdivided into independently serviced and metered office units or operated as a single tenanted space.
Once each section of trunking had been screwed firmly in place, the installation team used a liquid screed to hold it firmly in place and seal it flush to the level of the floor.
Pre-galvanised Uniklip RIS (Rapid Installation Systems) cable tray from Unitrunk was also installed at ceiling level as part of the installation.  The reengineered cable management system is designed to offer reduced installation times and a robust solution. It was suspended from a network of channel by the Priddy Engineering team, with the system's tool-free, secure clips and couplers helping to speed up the progamme and keep the installation on track.
Commenting on the installation, Jordan Bates of Priddy Engineering commented, "One of the reasons why we liked the Unitrunk system was the ability to finish flush with the current screed.  The existing slab isn't quite flat because of its age and we had the flexibility to raise the levels up with the Unitrunk trunking".