Faster Installation At Jersey Fuel Terminal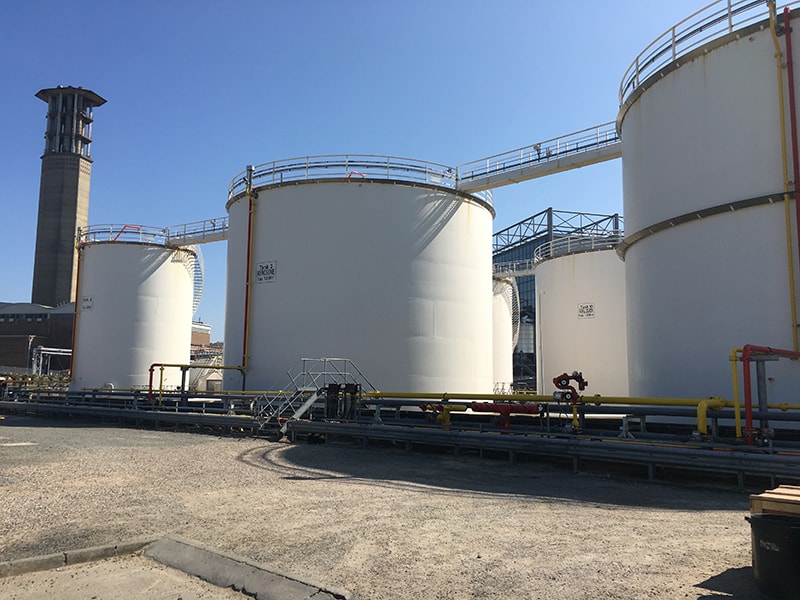 Unitrunk's heavy duty cable tray has been used to enable the installation of a new fire fighting and sprinkler system at La Collette fuel terminal in Jersey after the cable management specialist was the only supplier able to meet the contractor's requirements.
Located on the south east coast of Jersey, La Collette fuel terminal comprises 11 main storage tanks ranging in volume from 350,000 to 2,000,000 litres to give the facility a total working capacity of 18,000,000 litres. To help manage the fire risk from the large fuel volumes stored on site, La Collette Terminal Ltd commissioned electrical contractor, SR Electrical Services Limited to install the infrastructure for a new fire fighting and sprinkler system, including all instrumentation and control wiring and a complex cable management network.
The cable management was installed throughout the fuel terminal building, around the tank farm and across all the gantries.
SR Electrical Services Limited selected Unitrunk's heavy duty hot-dipped galvanised cable tray in 300mm widths for the installation, along with Unitrunk channel. The channel was attached to the existing bund walls and the cable tray was mounted onto this infrastructure using cantilever arms supplied by Unitrunk.
The new cable management infrastructure enable SR Electrical Services Limited to install cables from a purpose-built PLC (Programmable Logic Control) panel to fire fighting and sprinkler controls throughout the office areas and tank farm.  Manual call points throughout the site enable operatives to activate the system 24/7 to illuminate any fires that could occur or risk of explosion.
SR Electrical Services Limited was required to deliver the scheme in a fast track six-month programme and, after seeking quotes from three cable management suppliers, found that Unitrunk was the only company able to supply the volume of product required to the Channel Island location within the required time frame.
Comments Christopher Rugg from SR Electrical Services Limited: "We have used Unitrunk's cable management systems before on several projects and were confident that they would be easy to work with and provide a robust finish.
"What really stood out, however, was the level of service that Unitrunk was able to offer.  Not only was the company the only supplier that could deliver the product we needed to Jersey to meet our programme requirements but they also pre-cut some of the channel and cantilever arms to size for us to help speed up installation on site."